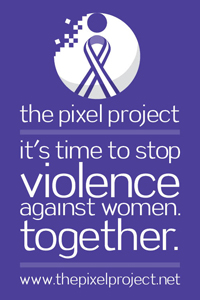 The Pixel Project has, amazingly, turned two years old today (7 January 2011) Not bad for an idea that started in the shower!
We would like to thank all of our volunteers past and present, short-term and hardcore, for the tremendous amount of work and time that they have contributed to us and the big picture cause to end violence against women worldwide. It takes a lot of faith to get on board a brand new nonprofit social enterprise start-up, especially when our first major project – The Celebrity Male Role Model Pixel Reveal campaign –  is now years in the making and continues to experience teething problems even at the threshold of launching. Yet all of them, from the social media team to the tech experts, have stuck with us through thick and thin… and they show no sign of letting up.
For this we are profoundly grateful.
We are also grateful for the support of our partners, many of whom are far more established nonprofits and activists working to end violence against women. Like our volunteers, they have stuck by us through thick and thin, never wavering in their belief in the work that we do and our efforts towards changing the world for women and girls worldwide. Like us, they understand that the only way we can move forward is to move forward together and to take strength in the power of working together to end violence against women.
For this we give our sincerest thanks.
Finally, we would like to give all our supporters both longtime and new a heartfelt virtual hug for coming on board the cause. Everything you do, no matter how small, makes a difference be it retweeting our tweets, reposting our blog posts, signing petitions, taking pledges, organising events, signing up to volunteer with us or donating to keep our work alive.
For this we count our blessings every single day of our work.
To help us celebrate our second birthday throughout this January, here are 10 simple ways you can immediately participate in micro-activism to help our cause to end violence against women get off to a great start in 2011:
1. Take The Pledge. We hope to launch our Celebrity Male Role Model Pixel Reveal campaign  to raise US$1 million to be share – after campaign expenses are subtracted – between the U.S.'s National Coalition Against Domestic Violence and Malaysia's Women's Aid Organisation. Have you taken the pledge to buy pixels yet? If not, please join our honour roll of pledge-ees to help us reach 200 pledges and beyond by the time we launch our campaign.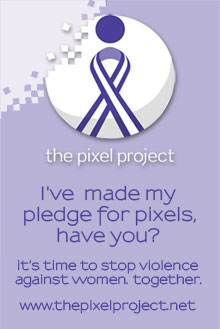 2. Wear Us On Your (Virtual) Sleeve. Download our latest virtual goodies including buttons and banners – post it proudly on your blog's sidebar or use it as your Facebook profile picture or Twitter avatar to help us encourage more people to pledge for pixels in the run up to our Celebrity Male Role Model Pixel Reveal campaign! Just click here to download your choice of button or banner.
3. Five Thousand Facebook Fans. If you are on Facebook, get two friends to join our Facebook page and get each of those two friends to tell two of their friends. Help us get to the 5000 supporter milestone by the end of January!
4. Into the Twalley rode the one thousand. Are you following us on Twitter? If you are and you have not added us to your lists yet, please do – we are listed on over 900 Twitter lists and getting to the 1000-list watershed is our goal for January because the more lists we are on, the wider our reach as our Twitter Tag Team tweets VAW news, information and helplines 24/7.
5. Be an Ambassador. Are you on Twitter? Sign up to become part of our growing network of Twitter Ambassadors who each retweet at least 5 of our tweets per day to help raise awareness about ending violence against women. Contact our Twitter Tag Team Coordinator, Suloshini at suloshini@thepixelproject.net to join.
6. Tag Team It! Are you on Twitter and have a block of 2 to 4 hours to spare per week? Sign up for our Twitter Tag Team where volunteers from 3 continents and 7 timezones take turns to tweet VAW news, information and helplines round the clock. Interested? Contact our Twitter Tag Team Coordinator, Suloshini at suloshini@thepixelproject.net to join.
7. Add Your Voice. Do you have a webcam? Have you always wanted to stand up and speak out in support of efforts to end violence against women? Join our ongoing "Wall of Support" campaign where people from all walks of life worldwide have joined in a global YouTube chorus speaking out against violence against women and girls. Not sure how to begin? Request for our guidelines and scripts here.
8. Share Your Stories. Our blog is always looking for inspirational survivor stories as well as helping other VAW nonprofits spread their news about innovative and positive initiatives for ending violence against women in communities and cultures worldwide. Your stories should be between 300 – 400 words in length and submitted together with an accompanying JPG format image (if you have it) to our Blog Editor, Crystal at crystal@thepixelproject.net.
9. Share OUR Stories. Are you a journalist or blogger? Want to help raise awareness about violence against women? Looking for guest blog posts or interesting activists to interview? Run an e-zine looking for content about the cause to end violence against women? Contact us and we'd be happy to share our experiences and to talk about the cause.
10. Get Giving. Like any nonprofit, we are always in need of donations of cash and services to run our projects, campaigns and initiatives. Much of our running costs are taken care of by donated services and materials, so be assured that we will make every penny/cent go the mile!
Cash Donors – Donating to us goes via Razoo which is easy peasy and which means that 100% of your donations go to us! Just click here to donate.
Service/materials Donors/Sponsors – Interested in donating services instead? We were looking for PR professionals in major cities in the US and Australia, web designers, programmers/developers, illustrators for animation etc. Just get in touch with us via info@thepixelproject.net or fill in the form here.
Time & Skills Donors – Want to volunteer with us? We are currently staffing up our Blog team, our Twitter Tag Team, our Facebook team, our Recruitment team, and our Administration team. Just fill in the form here and someone will get back to you!
It's time to stop violence against women. Together.
May we all get it done in the next decade!
– Regina Yau, Founder and President, The Pixel Project