With VAW being a taboo topic in many cultures and communities, music has become an invaluable awareness-raising, advocacy and educational tool which anti-Violence Against Women (VAW) activists, grassroots groups and nonprofits such as The Pixel Project use in their work to get communities aware about VAW, to break the silence surrounding the violence and to inspire people to take action to stop this human rights atrocity. Indeed, from We Are The World to Man In The Mirror, musicians, singers and songwriters have proven again and again that music is one of the most powerful ways of conveying messages about causes and issues.
Earlier this year, we put together a list of 10 celebrity musicians who support the movement to end VAW. However, with an increasing number of music artistes starting to support the movement through working with various anti-VAW organisations and campaigns, we have decided to present 16 more artistes using their music to say NO to VAW.
These diverse artistes hail from different countries and musical genres. Some of them are global celebrities, others are well-respected in their countries or genres. Still others are up-and-coming stars who have decided to use their talents for good. It is the movement to end VAW that unites and inspires them and we hope that all of them will continue to work with the movement in years to come.
By Claire Dye and Regina Yau. Introduced and edited by Regina Yau
—————————————————————————————————————–
Artiste Against VAW 1: AHMIR – YouTube and United States of America
AHMIR is the #1 most popular R&B group on YouTube with over 60 million video views and comments by celebrities such as Ryan Seacrest, Ashton Kutcher, Miley Cyrus, Demi Lovato, Perez Hilton and Pink. The group is The Pixel Project's first YouTube Music Ambassador and have been actively working on various programmes and projects for The Pixel Project's Music For Pixels campaign. Their recording of The Rose for The Pixel Project which garnered over 70,000 views will be included in The Pixel Project's 16 For 16 digital EP to raise funds for the cause. They say: "Violence Against Women is probably one of the most widespread human rights issues around the world, but often hidden and not given the type of attention it deserves. Musicians have a captive audience who listen to the words sung in their songs. Therefore, musicians should feel it is privilege to use their unique talents to help raise awareness to end violence against women."
Artiste Against VAW 2: ALiLang – China
This Chinese boy band is part of the program "17 MAN", hosted by UN Women and organised by Eastern Campus. This program uses social media and youth role models to encourage reflection on gender roles and the ways that stereotypes and inequality can lead to violence. They say: "17MAN – be true men together! Join 17MAN and protect the people around you, protect the girls you love! To live without violence is everyone's right!"
Artiste Against VAW 3: AlKabli – Sudan
Active in peace and reconciliation efforts in his native Sudan and South Sudan, AlKabli is also active in the campaign to end violence against women. In 2005, AlKabli joined other musicians to visit South Darfur during the 16 Days of Activism Against Gender Violence. While there he performed in refugee camps and at Nyala stadium. He is also an honorary United Nations Population Fund Goodwill Ambassador for obstetric fistula and violence against women. His music and poetry focus on women's equality and women's health. His song "Fatat al-Yawm wa'l-Ghad" (The woman of today and tomorrow) celebrates women's important role in society.
Artiste Against VAW 4: Big & Rich – United States Of America
Big & Rich actively support the National Coalition Against Domestic Violence (NCADV) and will be the 2013 recipients of the Country Radio Seminar's Artist Humanitarian Award. To support the NCADV, Big & Rich gave a portion of the proceeds from their "Love Everybody" voice ringer to the organisation and addressed domestic violence in the video for their song, Holy Water, written about Big Kenny's sister, Charlene, and John Rich's sister, both victims of domestic abuse. Big Kenny, one half of the music duo, also donated his top hat, handwritten lyrics, and his services as auctioneer for a YWCA Celebrity Auction in 2011 that raised money for the YWCA's Weaver Domestic Violence Shelter. The event raised over $153,000.
Artiste Against VAW 5: DAM (Da Arabian MCs) – Palestine 
Palestinian hip-hop group DAM recently teamed up with Amal Markus, an internationally renowned soloist, and UN Women to create a video for the song If I Could Go Back In Time. The video aims to raise awareness among Arab youth about honour killings. Work for this project, which started over two years ago, included visits to shelters that house women in danger of being murdered by family members. Tamer Nafar, the band's spokesperson said: "We feel that when there is a crime against a woman, it is seen as the end of the story. No one asks the right questions; no one tries to shed the light on the human face; it is just another death. A death justified merely by the fact of being a girl."
Artiste Against VAW 6: Haila Maria Mompie – Cuba
Cuban salsa singer, Haila Maria Mompie, is a spokeswoman for the United Nations Secretary-General's campaign "UNITE" to end violence against women and girls. In 2011, she, along with 26 other musicians from Latin America and the Caribbean, took part in a 3-day series of workshops on domestic violence that were sponsored by the UN. During this workshop, Mompie and the other artists worked on creating messages and other initiatives to raise awareness for and advocate against violence against women and girls. She said: "Most Cuban women are very independent, but, sadly, some of them are not. We need to increase awareness in this regard; teach them that there are many kinds of violence, not only physical, but also psychological. We still need to learn more about this matter. My advice is to treat each other with love and respect. I say NO to violence against women."
Artiste Against VAW 7: Indigo Girls – United States of America
Renowned Folk-Rock duo, The Indigo Girls, is active in many social causes including the fight to end violence against women. Their work in this area includes appearing in Eve Ensler's The Vagina Monologues, providing a track for the CD, For the Next X: A Benefit CD for RAINN, and reading "To Stop Violence Against Women" at A Memory, A Monologue, a Rant and a Prayer: Writings to End Violence Against Women and Girls, an event hosted by Eve Ensler and Jane Fonda.
Artiste Against VAW 8: Jill Scott – United States of America
Grammy Winner Jill Scott was four when her mother fled from an abusive relationship with her child in her arms. She grew up in Philadelphia in a tightknit family with her mother and grandmother. In June of 2007, the singer performed at "Music Matters Concert: Singers and Songwriters Unite Against Violence," a benefit show for the Chicago Foundation for Women's "What Will It Take?" anti-violence initiative. Scott spoke to the crowd of 2,800 about her mother's experience of fleeing domestic abuse and called the concert "an important night" for the residents of Chicago to come together to try to prevent violence against all women and girls.
Artiste Against VAW 9: Malena Muyala – Uruguay
An internationally recognised tango composer and singer, Malena Muyala is a spokeswoman for the United Nations Secretary-General's campaign "UNITE" to end violence against women and girls. She has also performed in "The Vagina Monologues" and participated in the photo exhibit "En tu piel" with the group Women in Black. This photo exhibit shows pictures of political, media, and social activist personalities who put themselves into the situation (or skin) of anonymous women who suffer from violence. On May 29, 2012, the "UNITE" campaign, UN Women, and the College of Art GAN-EXA held a seminar, "Art Denounce: 3 United Artists to End Violence Against Women," to explore how Malena Muyala and two other artistes address the rights and empowerment of women in their work.
Artiste Against VAW 10: Missy Elliott – United States Of America
Missy Elliott, herself a domestic and sexual violence survivor, was the national spokesperson for Break the Cycle, a national non-profit organisation that works with youth to end domestic violence. With Break the Cycle, she launched a $5 million campaign to raise funds and awareness for the organisation. She has also included information about Break The Cycle and its work on her CD liner notes, performed on the concert tour "Where My Girls At?" whose proceeds were given to Break the Cycle, and teamed up with Iman to create a lipstick brand whose profits would benefit the organisation. Elliott says: ""I know how domestic violence can affect a family and I want to do everything I can to stop it from happening to others. The most important thing we can do is teach kids that they can break the cycle."
Artiste Against VAW 11: Noel Cabangon – The Philippines
Noel Cabangon, a Filipino singer, songwriter, and activist, wrote the song Men Move for the Philippine Commission of Women (PCW). The song asks men everywhere to "bring all violence against women to an end." This song was adopted by the UN Secretary-General's UNiTE to End Violence Against Women campaign and has since been translated and recorded for a music video. In March of 2012, Cabangon participated in the Asia-Pacific regional event for International Women's Day. The focus of this event was young people's activism to end violence against women and girls.
Artiste Against VAW 12: Pete Ahonen – United States Of America
Pete Ahonen is a California-based Folk-Rock/Alt artiste who joined The Pixel Project's Music For Pixels campaign's 16 For 16 digital EP after writing the song A Day Will Come. Ahonen says: "I was watching a documentary about human trafficking and one of the stories in particular really got to me. Basically a woman was kidnapped and sold into sexual slavery. When the authorities had presumed her dead, her husband didn't give up and continued searching for her. He finally rescued her after 7 years, and all the obstacles and personal hell she had to face in the aftermath were both humbling and inspiring.  'A Day Will Come' was inspired by her story."
Artiste Against VAW 13: Salome Korkotashvili, Georgia
Salome Korkotashivili recently composed the music and lyrics for, and performed in, a music video produced as part of the UN Women project, "SHIELD – Enhancing Prevention and Response to Domestic Violence in Georgia." The video is aired frequently on public broadcast channels to raise awareness about domestic violence, promote a newly established domestic violence hotline, and publicise the existence of two new shelters. In the song, Korkotashvili encourages women to leave abusive relationships and to reach out for health and safety.
Artiste Against VAW 14: Sarah Carpio – Mexico
Sarah Carpio is a Mexican independent singer/songwriter and human rights campaigner who focuses on helping raise awareness about human trafficking and VAW. Carpio has performed various concerts for the Global Freedom Concerts initiative that raises awareness and funds to stop modern-day slavery and trafficking. She has also participated in The Pixel Project's various music campaigns and programmes including the YouTube Cover Carnival contest, and her song Break Free, written with anti-Human Trafficking activist and poet Meg Nezaj, is featured on The Pixel Project's 16 For 16 digital EP.
Artiste Against VAW 15: The Other People – India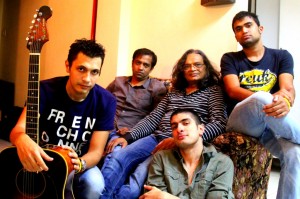 The Other People started getting involved with the movement to end VAW when they participated in and were selected as the winners of The Pixel Project's Fall 2012 YouTube Cover Carnival contest with their cover of Kelly Clarkson's Dark Side which will be included in The Pixel Project's 16 For 16 digital EP. They said: "Being an all-male band, the majority of our fans are women and girls. It would hurt us deeply to know if any one of them is a victim of violence. Expressing ourselves through our music will help other males in our society understand that women need to be cared for, respected and most importantly, loved. Whether directly involved or not, everyone is affected by it in some way or the other. Violence against women can never be justified."
Artiste Against VAW 16: Tony O'Malley – United Kingdom
Tony O'Malley is a singer, songwriter and pianist with a distinguished career performing and/or recording with everyone from Martha Reeves & the Vandellas to 10CC. He was moved to use his music to support the movement to end VAW when he came to know of the abuse suffered by a friend. He said: "I became a supporter of The Pixel Project's work after witnessing a good friend suffer the appalling consequences of domestic violence. Nicoletta was written to highlight the fact that entire families become victims of such abuse." Nicoletta is featured on The Pixel Project's 16 For 16 digital EP.
—————————————————–
Give back while giving joy this Christmas:
Searching for an affordable gift that is both empowering and uplifting for someone in need of that extra encouragement and good vibes this Christmas? Check out our "16 For 16" digital EP featuring 5 songs aimed at lifting the spirits and empowering survivors of Violence Against Women worldwide via all major online music stores including iTunes, Amazon, Google Music, Spotify and many more. Prices range from US$4.95 to US$6.45 depending on region and retailer. Just click on the buttons below to be taken to the EP's download page in your preferred online music store: