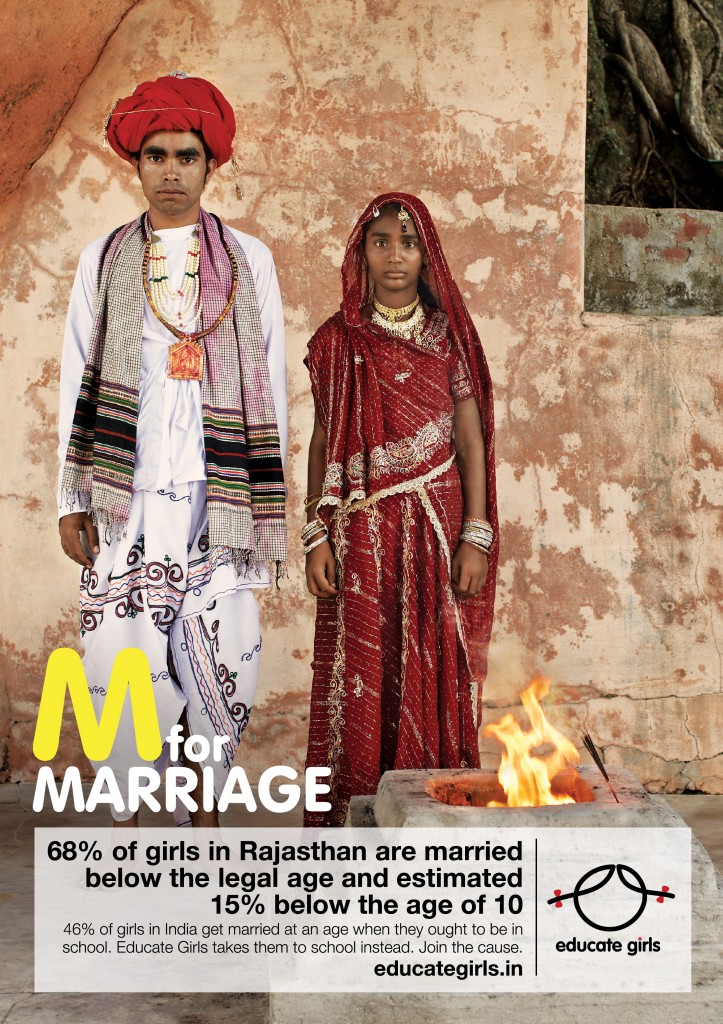 The practice of child marriage–matrimony before age 18–continues to disproportionately affect girls in certain cultures and communities with significant consequences to their education, health, and social life. Child brides have little say in when or whom they will marry, have little influence with their husbands and in-laws, have little opportunity to develop awareness of their rights, and are in no position to claim or demand them.
These large age gaps reinforce power differentials between girls and their husbands. Girls who marry before age 18 are more likely to experience violence within marriage than girls who marry later. Girls may lack the power to negotiate safer sex and have little access to information or services to prevent either pregnancy or infection. According to Girls Not Brides, girls under the age of 15 are 5 times more likely than women in their twenties to die during childbirth. Married girls are also more likely to have multiple children in shorter intervals and more likely to become disabled due to pregnancy or childbirth. Stillbirths and deaths during the first week of life are 50 percent higher among babies born to adolescent mothers than among babies born to mothers in their twenties. Children of adolescent mothers are also more likely to be premature and have low birth weight.
Governments are now recognising the importance of addressing child marriage and integrating societal changes to meet the UN Millennium Development goals. Supporting girls in avoiding child marriage, delaying having children, and finishing school brings opportunities for skills and income to eradicate poverty for future generations. Promoting gender equality and the empowerment of women ensures girls get choices as to when they marry and whom. Reducing child/forced marriage will reduce child mortality and disability related to child/teen pregnancy or childbirth. It will also improve maternal health which will reduce vulnerability to HIV/AIDS, malaria and other diseases.
Though the practice of child marriage is rooted in tradition and culture, neither culture nor tradition is immutable and there is hope for change. This list presents 16 ways you can join in the efforts to end the practice of child marriage and influence change to ensure a better future for young girls and boys around the world.
Written and compiled by Angelique Mulholland with additional content by Regina Yau; Introduction by Carol Olson 
---
Way to Prevent Child/Forced Marriage #1: Educate Girls 
According to UNICEF, one in three girls in low- to middle-income countries will marry before the age of 18. Many studies have shown that it is more than likely that a girl who marries as a child will come from a community where education for girls is not valued. She will more than likely be illiterate and will have little to no understanding of her human rights. Girls having access to both primary and secondary education will improve their chances of access to employment and a means of supporting themselves and then in turn their families. It is important to reach out to communities and help challenge traditional and discriminatory views on access to education. INSPIRATIONAL EXAMPLE: Tostan, a women's human rights charity based in Senegal, runs outreach programmes which educate community elders and decision makers about the importance of educating young women.
Way to Prevent Child/Forced Marriage #2: Empower Girls
In many countries where child marriage is prevalent, girls are often seen as economic burdens. Girls in households where boys are favoured often have low self-esteem and little confidence. Dr Ashok Dyalchand, who works at the Institute of Health Management, Pachod (IHMP) in India, has conducted a research project on teenage girls living in rural areas of India. Using the Rosenberg scale, he measured the self-esteem of young girls and found that the lower the self-esteem, the higher the risk of child marriage. Dr. Dyalchan found that empowerment programmes for young girls are key to preventing child or early marriage by improving both their sense of self and self-efficacy through informing girls of their basic human rights, their legal right to refuse a marriage, and education programmes on health and sex education. Small scale studies have shown promising results from his programmes that make girl empowerment its central strategy –  the mean age of marriage of 14.5 years old has risen to 17 years old.
Way to Prevent Child/Forced Marriage #3: Educate Parents 
Some parents from traditional communities believe that child marriage is a way of protecting their daughter: providing for her economically so she will be taken care of; safeguarding her from harassment and sexual violence before she reaches puberty, and preventing premarital sex which is still taboo in many countries across the world. Unfortunately, families often do not know the negative and harmful effects of early child marriage, including pregnancy at such a young age which can lead to many complications as a girl's body will not be ready for childbirth. Such parents will benefit from being educated on the very serious harmful effects of forced early childhood marriage. INSPIRATIONAL EXAMPLE: In Zambia, Chief Nzamane of the Mfumbeni tribe works with THE parents of girls who are at risk of being sold for lucrative dowries. He understands the financial pressures on families and finds way to help them stay financially secure without needing to force their daughters, in his words, into "lifelong trauma."
Way to Prevent Child/Forced Marriage #4: Mobilise religious leaders and community elders
Religious elders and community leaders – nearly always men – are the decision makers in communities where early or child marriage is prevalent. Engaging and educating these powerful men is key to changing the attitude of a community on childhood marriage. INSPIRATIONAL EXAMPLE: Tostan's Community Empowerment Programme focuses on engaging local elders and religious leaders and educating them on the harmful effects of traditions such as child marriage on communities as a whole. Once they are knowledgeable, Tostan will hold educational sessions with the whole village including the parents of high-risk girls and the girls themselves. As a result of these sessions, throughout Senegal villages have declared an end to some harmful practices including child marriage.
Way to Prevent Child/Forced Marriage #5: Support Adolescent Girls Who Are Already Married
Although the focus is on communities preventing child marriage, young girls who have already married also need support. As well as being isolated and having less chance to complete or continue their education, child marriage can put young girls at a higher risk of violence in the home- sexually, physically and psychologically. INSPIRATIONAL EXAMPLE: CARE has run a successful project in Ethiopia which has focused on supporting child brides. The TESFA project (meaning "Hope" in Amharic) focuses on educating child brides of their rights and providing them education on their reproductive rights, contraception and healthcare. The holistic approach giving all members of the community a chance to discuss the benefits of supporting child brides and the best ways in which to do it, has resulted in some very encouraging results over a three-year period.
Way to Prevent Child/Forced Marriage #6: Support Legislation Against Child Marriage
One of the most powerful tools that anti-child marriage organisations and women's rights activists and advocates have been campaigning for is for governments in countries such as Yemen where child marriage is prevalent to make child marriage illegal by raising the legal age of marriage to the minimum age of 18. If you live in one of these countries or communities, start supporting efforts to get such legislation passed by supporting the efforts of these organisations and activists including participating in community campaigning activities organised by them such as petitions and demonstrations. Where there are such legislations and laws in force but have trouble gaining traction over entrenched traditions, help prevent child marriage by notifying the relevant authorities or agencies about any child marriage may be taking place in your neighbourhood or community. Ditto if you live in countries with large immigrant communities that practise child marriage.
Way to Prevent Child/Forced Marriage #7: Advocate for Women as Community Leaders
In many communities that practise child marriage, women are often kept out of the decision-making processes and are not allowed a voice in local politics. It is vital that women are able to voice their concerns and advocate for women's rights in all spheres as this is often what accelerates the elimination of harmful traditions such as child marriage and female genital mutilation (FGM). INSPIRATIONAL EXAMPLE: Tostan trains women in leadership skills and advocacy. 80% of their Community Management Committees are coordinated by women and this gives them the vital skills and confidence needed to engage in local community meetings. As a result more and more women throughout Senegal and other areas where Tostan works are being seen, heard, and having a positive impact throughout local communities.
Way to Prevent Child/Forced Marriage #8: Provide Relevant Economic Support 
Inter-generational poverty is often the most prevalent reason cited for forcing girls into early marriage. Families may know about the harmful effects of child marriage, but may be forced to marry off their daughters as the dowry payment from the marriage of an older sister might be essential in ensure the survival of younger children. Providing economic support to families may be a way of helping parents who do not want to their daughters to get married early. INSPIRATIONAL EXAMPLE: The Berwan Hewane project in Ethiopia found that providing a family with a goat or a sheep for refusing to marry off an underaged daughter helped parents stand firm on that decision. In certain cultures and communities, this provision of livestock can mean the difference in the survival and longevity of a family; providing this much-needed resource to a family trapped by poverty gives them more options, including refusing to marry off underaged daughters.
Way to Prevent Child/Forced Marriage #9: Get Informed and Take Action
If this is the first time you have become aware about child marriage, one of the first steps you need take is to understand the issue do more research and learn about the human cost of this harmful practice as there are painful consequences of child marriage. Get informed and knowledgeable on the subject, then proceed with learning more about international, governmental, and grassroots efforts in your community and worldwide that are focused on the prevention and intervention in child marriage. Then, armed with that information and knowledge, decide how you can best support their efforts with your resources and skills, then reach out to the relevant activists and organisations and start taking action.
Way to Prevent Child/Forced Marriage #10: Talk about it
As with the wider human rights issue of Violence Against Women, child marriage is still a taboo subject; talking about it will help to educate societies across the globe about the harmful effects of child marriage. Many people, particularly in Western countries, are hesitant to criticise cultural practices as they are worried they will be perceived as racist or xenophobic. Standing up for the human rights of children should never be perceived as a negative act. Talk about it with your family and friends, share information on your social media forums and be passionate about ending child marriage today.
Way to Prevent Child/Forced Marriage #11: Men and Boys – Please Speak Out!
Like in every area of ending violence against women, men and boys are central to challenging gender norms and changing deeply entrenched traditional practices like child marriage. There would be no child marriage if men in affected communities did not choose to marry children. It is therefore vital that men are educated on the rights of girls and how early marriage can be harmful to her health and happiness and destructive to the family unit. We need men everywhere to speak out against discrimination and violence towards women and girls. INSPIRATIONAL EXAMPLE: In Morocco, a Maths teacher named Mohammed Baddi runs educational projects with Fondation YTTO, a Moroccan women's rights organisation in the Amazir communities based in the Atlas mountains. He teaches young girls that; they can achieve more than the wife/mother status society affords them: "They are not machines, just meant to sew or to bear children."
Way to Prevent Child/Forced Marriage #12: Take A Pledge
On 22 July 2014 something extraordinary happened: In a school in South London, UK, David Cameron, Malala Yousafzai, and hundreds of development professionals and representatives around the world pledged to end Early, Child or Forced Marriage (ECFM) and Female Genital Mutilation (FGM) as part of The Girl Summit. 700 million other people did so too. The Girl Summit, co-hosted by UNICEF, is the first initiative of its kind that aims to accelerate and mobilise efforts to end FGM and ECFM within a generation. You can make your pledge here and add your voice to the chorus of millions by Facebook or Twitter. Do it today!
Way to Prevent Child/Forced Marriage #13: Sponsor a Girl Child
Sponsoring a child in a developing country has been a longstanding way for donors around the world to support underprivileged and vulnerabble communities in order to break the cycle of  violence, poverty, and illiteracy. Donating a small amount of money each month to a child with charities like Plan International can help girls who are vulnerable to child marriage. Education is one of the greatest preventatives of child marriage and studies have proven that the longer a girl stays in school, the less likely she is to marry or become an underaged mother. In some developing countries education is not free and families cannot afford to send their child to school and if they do, male children are given priority. By sponsoring a girl child each month you can help pay for their school fees and help her get the education she needs to avoid child marriage and to map her own path in life.
Way to Prevent Child/Forced Marriage #14: Support Anti-Child Marriage charities and organisations 
There are many amazing charities which are implementing some incredible campaigns to put an end to child marriage with encouraging results. Why not support them? Grassroots projects often desperately need support to keep going and your time or money can truly make a difference. To start you off, here are three major grassroots organisations working tirelessly every day to put an end to child marriage: Girls Not Brides, Saarthi Trust and Tostan. If you would like to find out more about other charities working to end child marriage, our 2013 16 for 16 article that lists out 16 prominent anti-child marriage nonprofits and charities is a good starting point.
Way to Prevent Child/Forced Marriage #15: Support Obstetric Fistula campaigns and organisations
Fistula is a common problem for adolescent girls giving birth for the first time. A fistula can occur during an obstructed labour, often when access to emergency care is unavailable or limited. Obstructed labour is an agonising process and girls/women often struggle in pain until the baby dies in the birthing canal. There is often a loss of circulation that causes tissue to die, leaving large gaps between the birth canal and bladder or rectum, causing incontinence. This is not only painful for new mothers, but it can also cause social isolation and acute psychological distress. According to Freedom from Fistula Foundation, an estimated 2 million women in Africa suffer silently with an obstetric fistula. Supporting this charity and others doing similar work in the field is a natural first step in helping many victims of child marriage from the maternal healthcare approach.
Way to Prevent Child/Forced Marriage #16: Support Artists, Photographers, and Journalists who Raise Awareness About Child Marriage
Raising awareness about the issue is vital because child marriage has been hidden away for centuries and needs to be publicly addressed by the community in order to end the daily suffering of adolescent girls and the continual violation of their human rights. One way of doing so is to support and share the work of journalists, artists, photographers and activists to help raise the plight of child brides. INSPIRATIONAL EXAMPLE: Stephanie Sinclair is a photographer who started capturing images of child brides over 9 years ago. Stephanie sought to highlight the lives of girls forced into marriage in her photographs in a bid to raise awareness. Her work has now been internationally recognised and has been used as a conversation-starter about child brides.